Meal Planning with Lotus Foods Part 2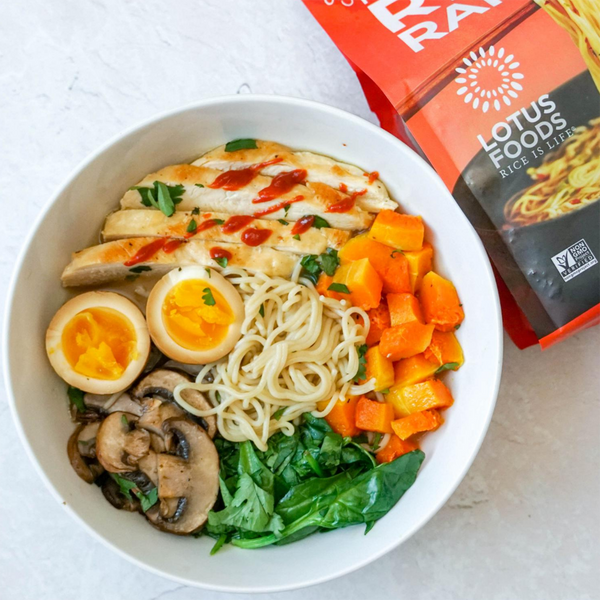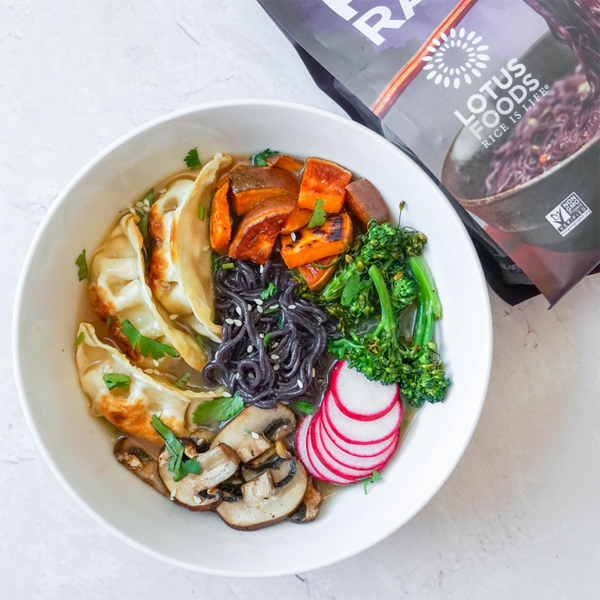 Lotus Foods Rice Ramen Noodles have a delicious nutty flavor, delightfully chewy texture and they only take 4 minutes to cook. They're packed with nutrients and fiber too. What's not to love? And if you need to eat gluten-free, these noodles fit the bill!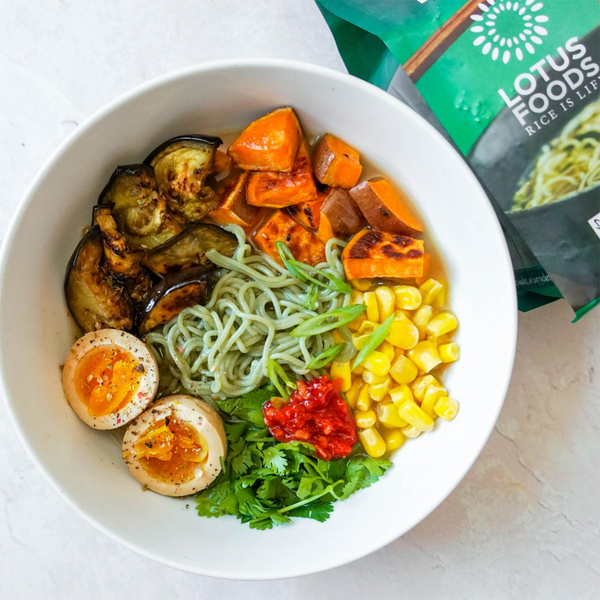 Each ramen bowl features homemade vegetarian shoyu broth spiked with soy milk and assorted fall favorites like butternut squash, sweet potato, broccolini, mushrooms, corn, leafy greens, and eggplant. Of course, you can use other seasonal produce like sweet potato, cauliflower, cabbage, and brussels sprouts. The sky is the limit!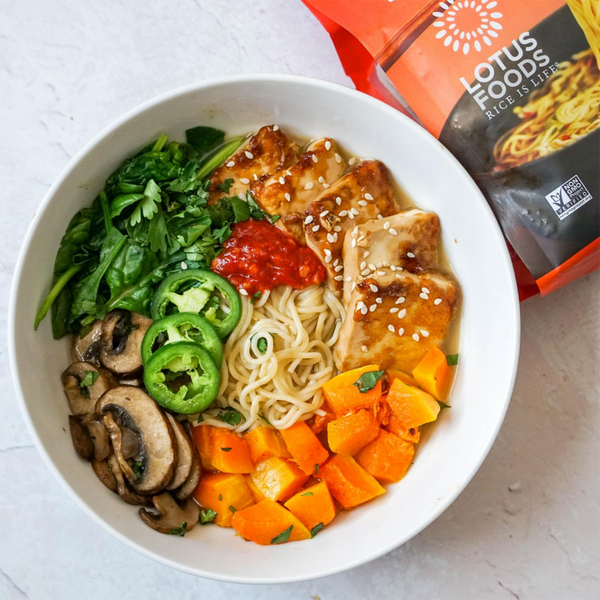 Fall Veggie Ramen Recipe by Workweek Lunch

Prep time: 15 mins
Cook time: 50 mins

For the broth and noodles:
● 1 teaspoon olive oil
● 1 onion, chopped roughly
● 3 cloves garlic, chopped roughly
● 1 tablespoon miso paste
● 8 oz dried shiitake mushrooms
● 32 oz chicken broth (sub veggie broth)
● 1/4 cup soy sauce (sub tamari or liquid aminos)
● 1/3 cup soy milk (sub milk of your choice)
● 3 Lotus Foods Organic Rice Ramen cakes

For the eggs:
● 2-3 eggs, boiled to your preference and peeled
● 1/3 cup water
● 1/3 cup soy sauce
● 1/3 cup mirin

Topping options (feel free to mix and match)
● Roasted chopped sweet potato or butternut squash
● Roasted or sauteed sliced mushrooms
● Roasted chopped eggplant
● Roasted chopped broccoli
● Raw spinach (it wilts in the broth)
● Grilled or roasted chicken breast
● Pan-fried tofu
● Pan-fried dumplings
● Chopped fresh cilantro
● Sliced jalapeno
● Sliced radishes
● Frozen corn, warmed on the stove or in the microwave

Make the broth: to a large pot over medium heat, add the oil, onion and garlic with a pinch of salt. Saute for 5
minutes, then add the miso paste and stir well. Add the dried mushrooms, broth and soy sauce. Bring to a boil,
then cover and reduce the heat. Simmer for 20 minutes, up to an hour.

For the eggs: boil eggs to your preference (I like mine soft boiled). Meanwhile, mix the water, soy sauce and mirin in a sealable container. Submerge the eggs in the mixture, seal and store in the fridge for up to 24 hours.
They can last in the fridge for 3 days, but make sure to remove them from the mixture after 1 day.

Make your toppings while the broth simmers. See the list above for ideas!

Prepare the noodles: Strain the broth into a bowl (make sure to catch it in something) and pour it back into the pot and bring it to a low boil. Cook the noodles in the broth according to the package (it takes just 4 minutes!). When the noodles are done cooking, remove them from the pot and turn off the heat. Pour the milk into the broth and stir.
If not eating right away: store noodles, toppings, broth and egg in separate containers in the fridge for up to 3
days.
When ready to eat: Add the noodles with your toppings to your bowls. Pour the broth over the noodles and
toppings. Add the eggs if they're ready and enjoy!