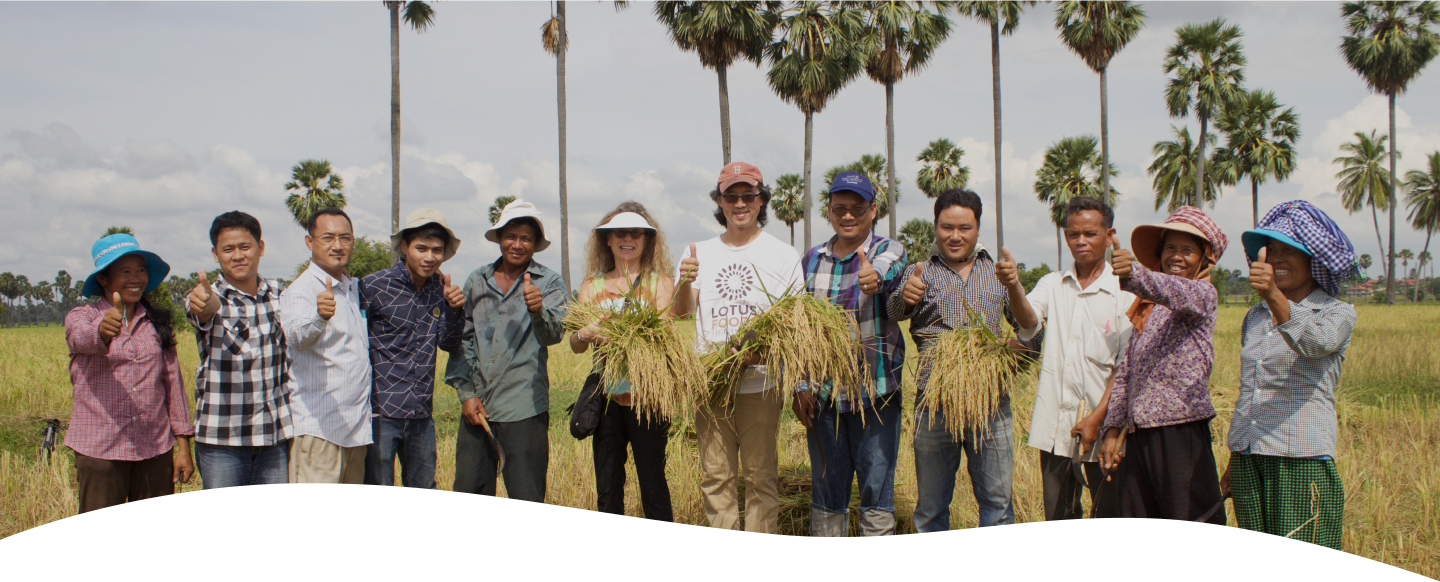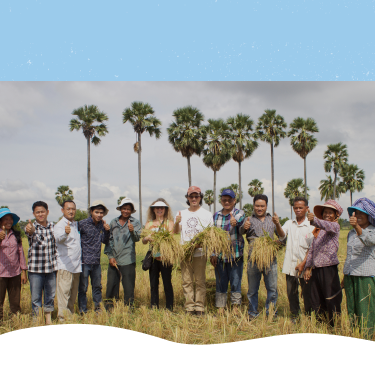 A LOVE STORY
In 1995
we began importing black rice, calling it Forbidden Rice® after the Forbidden City, the Chinese Imperial palace. We wanted to share our love affair with heirloom rice with American consumers. If they loved the exciting colors and tastes of rice from around the world as much as we did, we could help preserve rice biodiversity, increase farm incomes, and improve sustainability. It worked!

Today
our supplier community brings you the highest quality organic rice and rice noodles, while promoting human and environmental welfare.

Our journey of love continues...
MISSION & VISION
MISSION
LEAD THE WAY IN RICE FARMING PRACTICES
that simultaneously
mitigate climate change, promote farmers' resilience, and empower women.

VISION
To Change
How Rice Is Grown Around the World.
WHY WE ARE COMMITTED
RICE IS LIFE
Rice sustains half the world's population. Most is grown on small family farms. But producing it is hard on people and the environment.
Natural Resources
¼ to ⅓ of the planet's annual renewable supply of fresh water is used for rice irrigation.
Climate Impact
Flooded rice fields are a major source of human-induced methane gas emission.

Labor Intensive
Hundreds of millions of women perform back-breaking tasks in unhealthy standing water.

Livelihoods
Most smallholder rice farmers struggle to make a living.
How we make it happen
Sourcing
We source rice from smallholder farmers, giving them access to international markets.
Premium Pricing
We pay organic and Fair Trade premiums to increase incomes and attract the next generation.

Community Development
We help fund local improvement projects and job growth with Fair Trade social premiums.
Regenerative
We promote organic and regenerative More Crop Per Drop® to restore natural resources, slow climate change.
Innovative Products
We strive to make healthy rice-based products more accessible and enable more farmers to benefit.
Advocacy
We advocate for a more just, equitable food system together with like-minded brands and partners.
More Crop Per Drop®
That's how we refer to the agroecological rice-growing method System of Rice Intensification (SRI). Farmers do not need special seeds or agrochemicals. They boost yields by changing how they grow rice to optimize the plants' development. They transplant younger single seedlings at wide spacing in rows, not random clumps of older seedlings. This reduces transplant shock and competition among plants, and enables mechanical weeding. Soils are kept moist, not flooded, promoting soil health and root growth.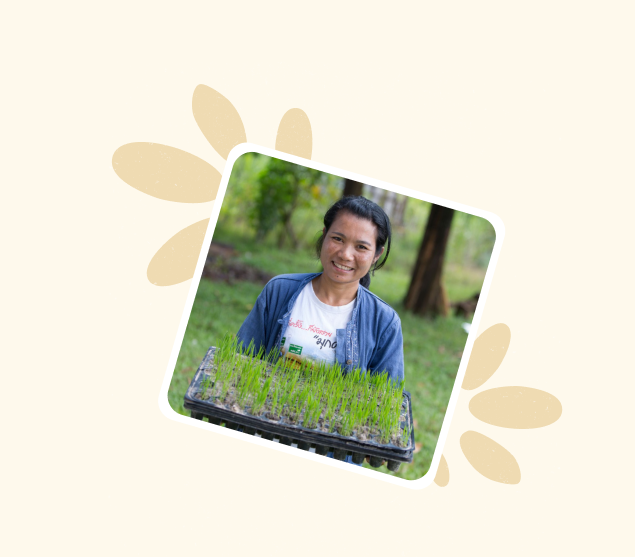 OUR IMPACT
OUR IMPACT
58.3Mlbs of organic rice purchased

57.1KCO2e tons saved

6.1BGALLONS OF WATER SAVED
Check Out Our Reports
2022 Impact Report
Learn about our history, farming practices, innovations, JEDI commitments, and more.

Download PDF here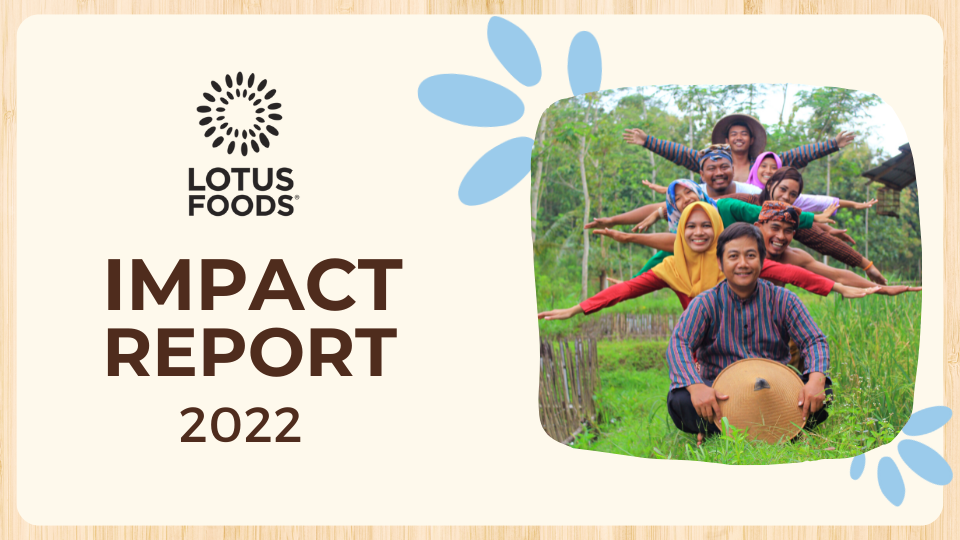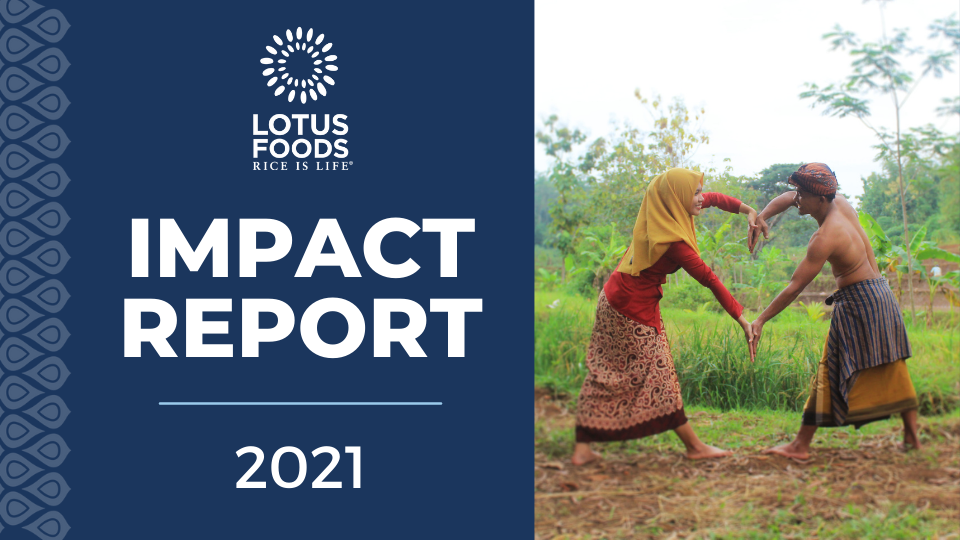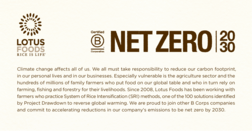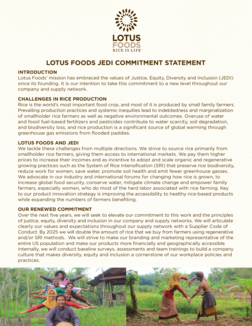 Meet Our Farming Community
PraTithi Organic Foods Pvt. Ltd.
Lotus Foods Partner Since 2019
location
Uttar Pradesh, India
Product
White & Brown Basmati Rice
about
PraTithi Organic Foods, a pioneer and leading champion of organic farming in India, partners with small and marginal farmers, preserving traditional knowledge and local crop varieties with eco-friendly techniques, like the System of Rice Intensification (More Crop Per Drop®) to produce the best yields and quality. Farmers producing heirloom Basmati rice for Lotus Foods qualified for Regenerative Organic Certified®/Silver.

Dalian HongRen Whole Grain Foodstuffs Co., Ltd.
Lotus Foods Partner Since 1995
location
Heilongjian province, China
Product
Organic Forbidden® Rice, Heirloom Forbidden® Rice, Organic Jade Pearl Rice™
about
One our first and longest suppliers, Dalian Hongren in China has been a partner with us for over twenty years. Both our black Heirloom Forbidden Rice® and black Organic Forbidden Rice® are grown on small family farms in the Heilongjiang region of China's far Northeast provinces – an area that has some of the most fertile and unpolluted soils in China and has become the 'organic' food basket for the country. They also supply us with our Organic Jade Pearl Rice™, a consumer favorite, due to its fresh green color and taste.

Foodtech Solutions (FTS) / Amnatcharoen Organic Agricultural Community Enterprise Network
Lotus Foods Partner Since 2017
location
Amantcharoen Province, Thailand
Product
Organic White & Brown Jasmine Rice
about
Together, FoodTech Solutions and Amnatcharoen Organic Agricultural Community Enterprise Network are addressing the power imbalance between large millers and small producers. They apply ecological principles to revive on-farm soil fertility and produce certified organic rice to boost net farm income and community resilience. Network members meet for two hours of training each month and to exchange best practices.The Homali Rice they produce is some of the best aromatic rice grown in Thailand.

Oasis / Surin Family Farms
Lotus Foods Partner Since 2019
about
OASIS (Organic Agriculture Social Enterprise Innovators of Surin) is a FLO-certified Small Producer Organization with about 650 small-scale farmer-members in Surin, Thailand. Many use More Crop Per Drop® methods. Founded in 2018, OASIS enables small-scale farmers to access premium markets. It has grown over the past few years to market red and white jasmine rice in addition to diversification with herbs and vegetables. OASIS exports its rice through its sister company, Surin Family Farms.

Cambodian Organic Farm Enterprise (COFE) Co., Ltd.,
Lotus Foods Partner Since 2008
Product
Organic White & Brown Jasmine Rice
about
COFE grew out of pioneering work by the Cambodian NGO CEDAC to improve farmers' food security and health by showing farmers how to grow more rice without toxic agrochemicals using System of Rice Intensification (More Crop Per Drop®). When formerly food-deficit farmers began producing surplus rice CEDAC organized them into organic cooperatives to sell their traditional jasmine. Lotus Foods was COFE's first international buyer and sources organic and fair trade jasmine rice from them to this day. Fair trade premiums have been invested by communities to dig wells and ponds, buy milling equipment and even build a community store and meeting center.
Bloom Agro
Lotus Foods Partner Since 2009
location
Central Java, Indonesia
Product
Organic Tricolor Blend Rice
about
Bloom Agro supplies a blend of traditional Indonesian whole grain red and brown rices that make our Tricolor Blend Rice. This rice is certified organic and was the first rice ever to qualify for Fair for Life, the most demanding fair trade certification that exists. Besides fair pricing, it encompasses many other social and environmental concerns, including water use and gender equity. Bloom Agro partners with a group of youthful, entrepreneurial famers in Central Java.