Pressure Cooker Rice Cooking Times for Lotus Foods Rice
Get the most from Lotus Foods rice with this helpful guide to Pressure Cooker rice cooking times. Learn the perfect ratios for every rice variety.
The list of ways to enjoy Lotus Foods rice just got a little bit longer (while the cooking time just got a whole lot shorter). In this blog post, we'll give you all the details on how to produce perfect Pressure Cooker rice, Lotus Foods style! For these cooking times, we used the Instant Pot brand of pressure cooker.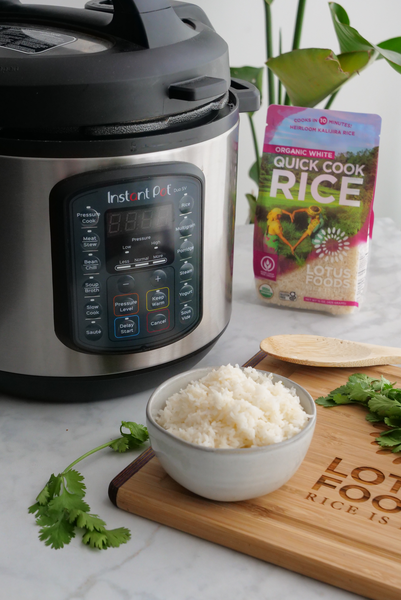 Perfect Rice: How Long Does It Take to Cook Rice in a Pressure Cooker?*
Instant Pot cooking times vary from one rice type to another. Lotus Foods offers a wide variety of high-quality, organic, heirloom rice. From Forbidden Rice® to Organic Brown Basmati Rice to Organic Jade Pearl Rice™, you'll find a wide range of interesting flavors and textures.
Pressure Cooker White Rice
White rice varieties, including our Organic White Basmati Rice and Organic White Jasmine Rice, go from dry to perfectly tender in just 3 minutes!
Want to make sushi rice with ease? Our Organic Jade Pearl Rice™ also takes only 3 minutes to cook.
Pressure Cooker Brown Rice
Brown rice varieties, including our Organic Brown Jasmine Rice and Organic Brown Basmati Rice, take a little bit longer at 22 minutes, but that's still nearly less than half the cooking time using traditional cooking methods. Our Organic Red Rice, Forbidden Rice® (both Heirloom and Organic) and Organic Tricolor Blend Rice fall into this category as well.
Foolproof Pressure Cooker Rice: How Much Water Do You Put in an Instant Pot for Rice?
The ratio of rice to water in a pressure cooker is different than traditional cooking methods. This is because a pressure cooker is sealed. Unlike stovetop rice, no steam is released when using a pressure cooker.
For example, pressure cooker brown rice requires only 1¼ cups of water for one cup of rice, whereas Instant Pot white rice has a 1:1 ratio.
Check out our handy Pressure Cooker Rice Cooking Times guide below.
Instant Pot Rice: High or Low Pressure?
Pressure cookers have two primary pressure settings: high and low. Our rice varieties cook best under high pressure. To get the perfect Instant Pot rice every time, we also recommend rinsing the rice with cold water before cooking it and allowing for a 10+ natural release.
*Cooking times do not include pressure cooker pre-heating times.
The Best Ways to Enjoy Pressure Cooker Rice
Product used in the blog