September 22, 2023
The United Nations declares 2023 the International Year of Millets
Lotus Foods knows millet well. Our Organic Millet & Brown Rice Ramen is our best selling rice noodle product. So, when we learned that the United Nations declared 2023 the International Year of Millets, we couldn't help but celebrate. We also thought to ourselves..."Hmm, remember when quinoa was a grain not many people knew about? And look how popular quinoa is now!" That is our hope for millet too. Please enjoy reading a bit more about the benefits of millet. 
Millets are a type of ancient grain mostly grown in parts of Asia and Africa, and millets are nutritious and drought resistant. That last quality could make them useful to farmers in the United States, especially in places facing deepening drought. Millets, an alternative crop to corn and soybeans, is getting new attention in the U.S. The resilient grain could help U.S. farmers survive climate change.
For farmers to consider planting alternative crops outside of just corn and soybeans, that could eventually mean rows and rows of millets in the United States, or at least an increase of a crop that advocates hope will help fight food insecurity and climate change.
International Year of Millets: Unleashing the potential of millets for the well-being of people and the environment
UN dedicates 2023 to greater efforts in producing millets given their nutritional properties and resilience in adapting to climate change.
As the global agrifood systems face challenges to feed an ever-growing global population, resilient cereals like millets provide an affordable and nutritious option, and efforts need to be scaled-up to promote their cultivation. Millets are deeply rooted in Indigenous Peoples' culture and traditions and help guarantee food security in areas where they are culturally relevant. - FAO
"Millets are incredible ancestral crops with high nutritional value. Millets can play an important role and contribute to our collective efforts to empower smallholder farmers, achieve sustainable development, eliminate hunger, adapt to climate change, promote biodiversity, and transform agrifood systems."

FAO Director-General QU Dongyu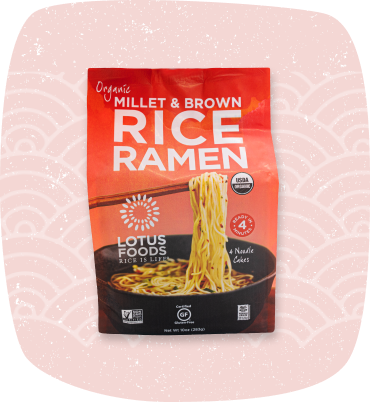 Our Organic Millet & Brown Rice Ramen is a fan favorite and our best selling rice noodle product
Despite the fact that millets have been a nutritional staple in diets throughout Sub-Saharan Africa and Asia for thousands of years, the UN has noted that their cultivation is declining in many countries just as their potential to address climate change and food security is beginning to come to light. Millets have some of the lowest water requirements of any grain crop (and grains as a group require significantly less water than just about any other agricultural crop). Millets are also quite tolerant of extreme heat and drought, two characteristics that make them well-suited to our changing climate. The UN states, "millets can grow on relatively poor soils and under adverse and arid conditions, with comparatively fewer inputs than other cereals."
Quinoa sales and recognition soared after the UN's 2013 Year of Quinoa, and we look forward to seeing 2023 have a similar impact for millets. - Oldways Whole Grains Council 
Millets can empower smallholder farmers, eliminate hunger, adapt to climate change, promote biodiversity, and transform agrifood systems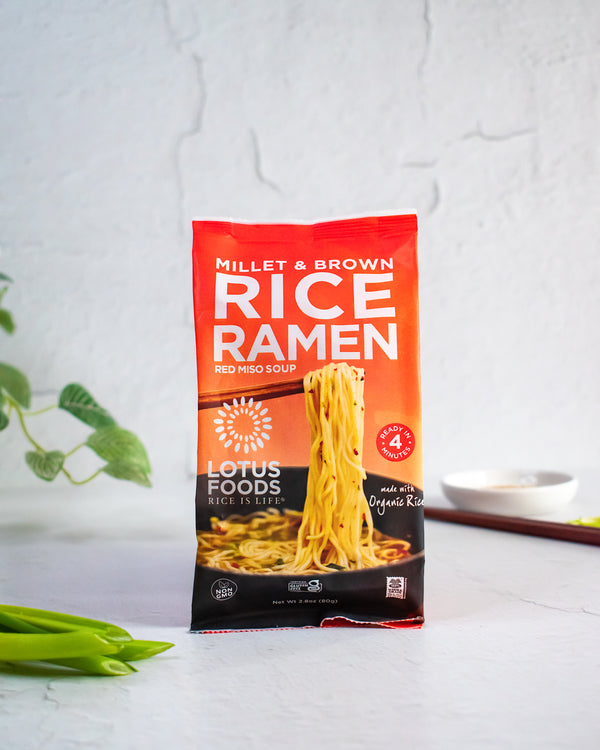 In addition to being gluten free, millet and brown rice are some of the most nutritious and easily digestible grains. Lotus Foods' Organic Millet & Brown Rice Ramen has a delicious nutty taste and is a good source of fiber and protein. Ready to eat in just 4 minutes! Add to soup or miso for a quick bowl of flavorful and nourishing noodles any time.
Find quick and easy recipe inspiration on our Pinterest Ramen Noodles Board!