The World's First ROC® Gold Rice
September 19, 2023
Lotus Foods Organic White and Brown Basmati Rice Becomes First Rice to Earn Regenerative Organic Certified® (ROC®) GOLD; Upgrades from SILVER 
ROC® Gold level represents the highest bar for regenerative organic production. Lotus Foods continues to lead as a pioneering rice company.
Lotus Foods Organic White and Brown Basmati Rice has achieved ROC® Gold from Silver. Lotus Foods Basmati Rice is now the 6th product worldwide to meet the rigorous standards required to certify as ROC® Gold, making Lotus Foods Basmati Rice the first and only ROC® Gold rice.
ROC® pillars recognize and promote high-bar regenerative farming practices that support a healthy planet and a fair society.
ROC® Gold level represents that 100% of farm operations must meet the highest standards for regenerative organic production across the three ROC® pillars: Soil Health, Animal Welfare, and Social Fairness.
In line with these pillars, ROC® aims to:
Increase soil organic matter over time and sequester carbon below and above ground, which could be a tool to mitigate climate change.

Improve animal welfare.

Provide economic stability and fairness for farmers, ranchers, and workers.
This achievement indicates the highest level of collaboration between brand and supplier. Lotus Foods is highlighting the collaboration today on the eve of Natural Products Expo East 2023 to elevate the conversation about ROC® and the company's efforts to lead the way in rice farming practices that simultaneously mitigate climate change, promote farmers' resilience, and empower women.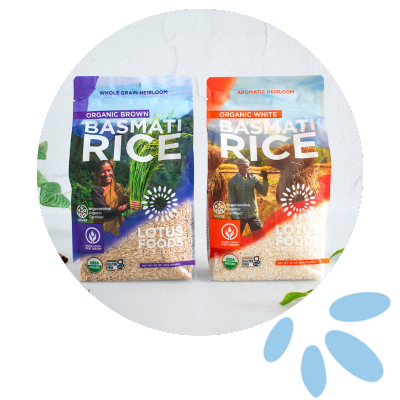 Farmers improve their yields and profitability, while also improving their soils, and reducing greenhouse gas emission.
"We are so proud of the entire team at PraTithi Organic Foods," says Caryl Levine, Lotus Foods co-founder. "Their farm families demonstrate that implementing more sustainable rice-growing practices that are inherently regenerative like the System of Rice Intensification, which we call More Crop Per Drop®, can be a win-win-win situation. Farmers improve their yields and profitability, while also improving their soils, and reducing greenhouse gas emission."
 
PraTithi Organic Foods founder and CEO, Mr. Tapan Ray, plays a pivotal role in the trajectory of growth in this sustainable agri-business industry, with his sheer determination, dynamism, and leadership. With more than 25 years of experience in organic farming and Fair Trade practices, he aims to make India one of the major destinations in the world for sourcing organic raw materials.
 
"It has required years of our concerted efforts of PraTithi's team and its farmers to achieve this great feat. We are very thankful to Ken & Caryl who have been our continuous support and great motivation to continue the ROA/ROC programme with our great focus. As we have achieved GOLD now, we will always try to excel in this field and maintain the expectations of all including the ROA team as well as our partner Lotus Foods, consumers and our farmers."
 
Lotus Foods offers a variety of organic and heirloom rices, in addition to the basmati. Their authentic heritage Indian basmati rice is grown on family farms in Northern India. The long, slender grains have a delicate aroma and fluffy texture. When cooked, the grains almost double in length. Basmati rice is known for its aroma, flavor, and texture. It's often served with Indian food and is one of the most beloved rices in the world. Basmati rice has a lower glycemic index, lower levels of arsenic, more fiber, and higher calories than white rice.
 
Lotus Foods Organic Basmati Rice is available at lotusfoods.com, Amazon, Whole Foods and retail grocery stores nationwide.
 
Basmati Rice accounts for 2.1% of total rice production. In 2022, the global basmati rice market was worth around $6.09 billion. It is expected to grow at a compound annual growth rate (CAGR) of 2.1% between 2023 and 2028, reaching a value of around $6.87 billion by 2028. Source.
 
For more information and product offerings, visit Lotus Foods online and follow on Instagram, Facebook and Twitter.
  
About Lotus Foods
Since 1995, Lotus Foods has partnered in direct and fair trade with small family farmers around the world who are growing rice more sustainably while preserving rice biodiversity. As a certified B Corporation, Lotus Foods is committed to "Changing How Rice Is Grown around the World" by focusing on rice grown using the System of Rice Intensification (SRI), which we call More Crop Per Drop®.  SRI minimizes water usage, empowers women, financially rewards farmers and reduces climate impact.
 
About the The Regenerative Organic Alliance (ROA)
The Regenerative Organic Alliance (ROA) promotes farming practices that restore and build soil, ensure animal welfare, and end unfair conditions for farmers and farm workers. The organization's intent is to create long-term solutions to the climate crisis, factory farming, and fractured rural economies. The ROA exists to heal a broken system, repair a damaged planet, and empower farmers and eaters to create a better future through regenerative organic farming. The ROA serves as the Oversight and Scheme Management Body for the ROC® program. The ROA is responsible for approving ROC® Certifying Bodies and creates documentation, systems, and processes. The ROA aims to promote holistic agricultural practices that build upon the United States Department of Agriculture's National Organic Program (USDA/NOP Organic) and other internationally recognized standards.