Lotus Foods x Urban Remedy Organic Burrito Bowl Launch
January 25, 2023
Urban Remedy and Lotus Foods Team Up for Launch of New Organic Burrito Bowl Featuring Regenerative Organic Certified® Rice
Lotus Foods Regenerative Organic White Basmati Rice will be featured in a new product from plant-based organic food company Urban Remedy; the Urban Remedy Organic Burrito Bowl is available now in select Whole Foods Market stores, at Urban Remedy storefronts and urbanremedy.com
Richmond, CA – (January 25, 2023) – Lotus Foods, the leading heirloom and organic rice and rice noodle company, is pleased to announce its Regenerative Organic White Basmati Rice will be featured in a new product offering from plant-based organic meal delivery service Urban Remedy. The Urban Remedy Organic Burrito Bowl is available now for $12.99 at select Whole Foods Market stores, Urban Remedy storefronts in the San Francisco Bay Area, and is shipping nationwide through urbanremedy.com.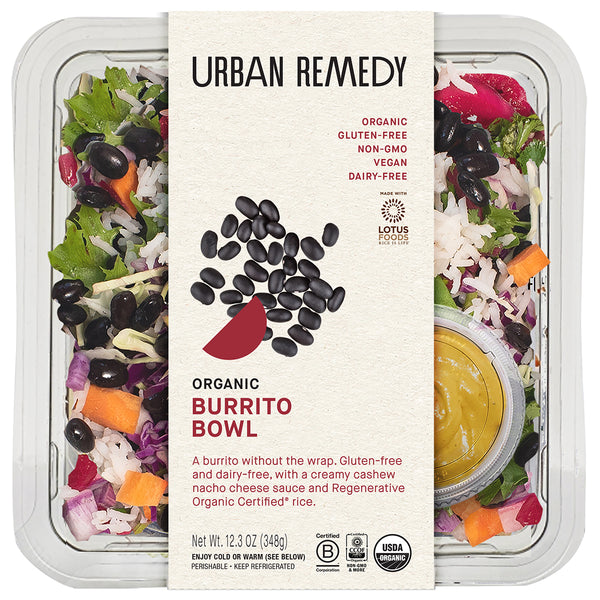 Organic Burrito Bowl, made with Lotus Foods' Organic Regenerative Certified® Rice
Hearty, low-glycemic and chock full of 12 grams of plant protein, the bowl combines Lotus Foods' Regenerative Organic White Basmati Rice with the perfect mix of flavors from black beans, crunchy carrots, cabbage, radish, lettuce, pink pickled onions from beet juice, a creamy cashew nacho cheese sauce and a squeeze of fresh lime. Lotus Foods' offering is one of the few authentic traditional basmati varieties still in production. Its exceptional aroma, flavor and texture are perfect in salads and bowls, making it an ideal choice for this tasty new meal.
Caryl Levine, Lotus Foods Co-Founder/Co-CEO, said: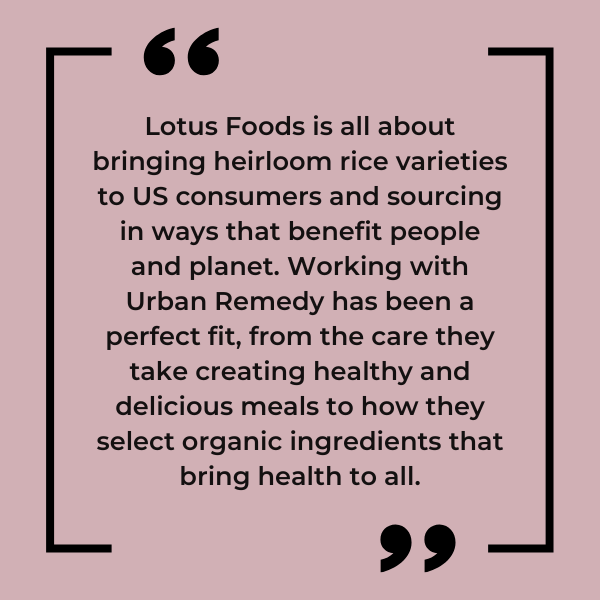 Lotus Foods Regenerative Organic White Basmati Rice is currently also in Urban Remedy's Organic Chickpea Coconut Curry with Kale. Lotus Foods has supplied organic rice to Urban Remedy since 2018 to be used in various organic, gluten-free, non-GMO, vegan and dairy-free menu items. The January 4, 2023 episode of the UR Love Podcast, hosted by Urban Remedy Founder Neka Pasquale, features a discussion with Lee and Levine about how they source rice from small-holder farmers using regenerative organic practices, benefiting both people and planet.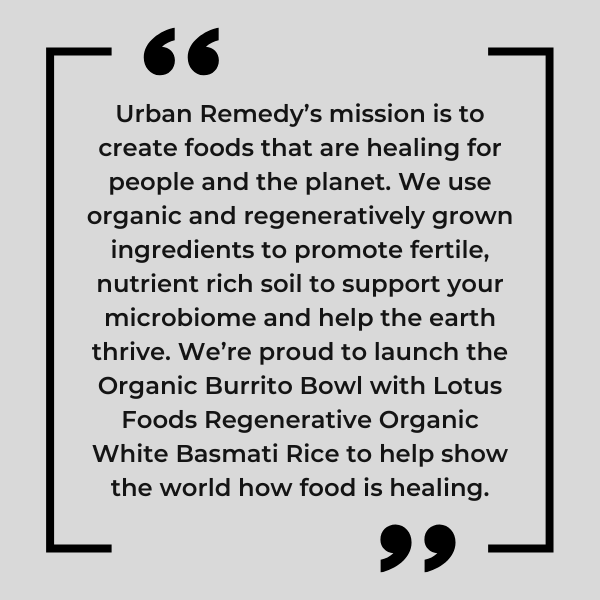 To view the full Press Release, click here.
Media Contact
Carrie Kocik
PR for Lotus Foods
(617) 694-5971
carrie@soundpublicrelations.com