Lotus Foods Supplier | Oasis Organic Farmers Thailand
May 8, 2023
OASIS (Organic Agriculture Social Enterprise Innovators of Surin) is a FLO-certified Small Producer Organization with 773 small-scale farmer-members in Surin, Thailand. Many of the Oasis farmers use More Crop Per Drop® methods, these practices are dramatically different from how farmers have been advised to grow rice over the last sixty years.
As explained in our blog, More Crop Per Drop® is how we refer to the agroecological rice-growing method System of Rice Intensification (SRI). Farmers do not need special seeds or agrochemicals. They boost yields by changing how they grow rice to optimize the plants' development. They transplant younger seedlings and plant them in wide rows, instead of random clumps of older seedlings. This reduces transplant shock and competition among plants, and enables mechanical weeding. Soils are kept moist, not flooded, promoting soil health and root growth. Rice plants actually grow better in soils that have access to oxygen, which a blanket of water shuts out.
By adopting More Crop Per Drop® growing practices, farmers can reduce their water use by over 25-50%, while also increasing their yields. This is how OASIS farmers produce Lotus Foods' Organic Red Rice. More Crop Per Drop® rice-growing enables OASIS farmers to produce more productive rice plants through optimum management of water, soils and inputs. It can enhance the yield of any variety, from heirloom varietals to the latest hybrids, from 25% to more than 100%, which translates directly into improved household food security and income.
Founded in 2018, OASIS enables small-scale farmers to access premium markets. OASIS has grown over the past few years to market red and white jasmine rice in addition to diversification with herbs and vegetables, and exports its rice through its sister company, Surin Family Farm.
The goals of OASIS are to create a stable economic base for farmers, increase the efficiency of productivity and develop the organization to be strong.
The OASIS Family Organic Farms' guidelines for operating are:
Create a learning process and joint development of farmers

Production of safe food

Sustainable development of organic marketing channels

Development of good, stable, and sustainable quality of life for farmers

Being friendly to society and the environment.
As the global certification body for Fairtrade, FLOCERT is on a mission to assure fairness. We also offer an array of services to support companies in sourcing on Fairtrade principles, where no Fairtrade Standard applies. With our help, producers, traders and brands are building fair supply chains globally.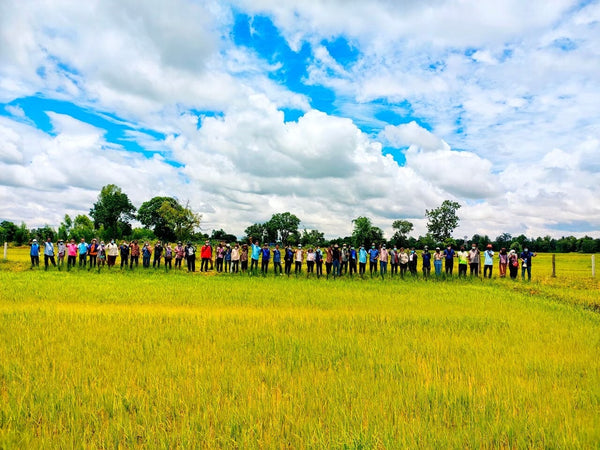 Fair trade premiums are helping farmers stay together, farm together, and improve their quality of life
Members of OASIS
There were 773 organic farmers in 2022; 467 female, and 306 male. A total organic farming area of 17,781 rai*, where the rice planting area equaled 15,261 rai (or 24,417,600 square meters) that were distributed in 165 villages, 56 sub-districts, and across 10 districts of Surin Province of Thailand
*(1 Rai = 1600 sq. meters)
All Premium Fairtrade budgets were used June - December 2022. Members of the OASIS Family have built deeper relationships through networking and professional development after attending trainings provided by revenue from fair trade premiums. Farmers attend to learn new methodologies for organic rice growing by visiting organic farming plots to encourage OASIS members to begin or continue growing organic rice. Visits included examples of integrated farming and plots that are leveled by laser. Farmers also learn the production process of rice seeds within azolla culture and how to manage mixed rice in the rice field. Beyond rice growing, farmers also learned about raising buffaloes and organic chicken eggs.
Farmers are trained in knowledge of organic soil and fair trade rice seeds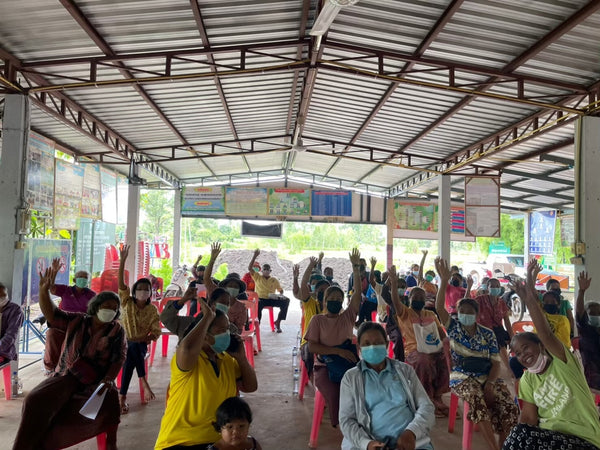 Fair Trade Premiums Spend Categories
Fairtrade Standards Audit to improve the skills of OASIS organic farmers

Training on post-harvest rice quality management

Farmer leaders meetings: five meetings were held from July to December 2022

Youth activities - Conserving the environment in the community

New Generation Farmer Development Project

Workshop and Study Visit Program on Climate Change Adaptation for Thai rice producers

Organization Development

Social Welfare Support or farmers' medical expenses and those suffering from natural disasters.

Corporate Media Production to produce ten educational video clips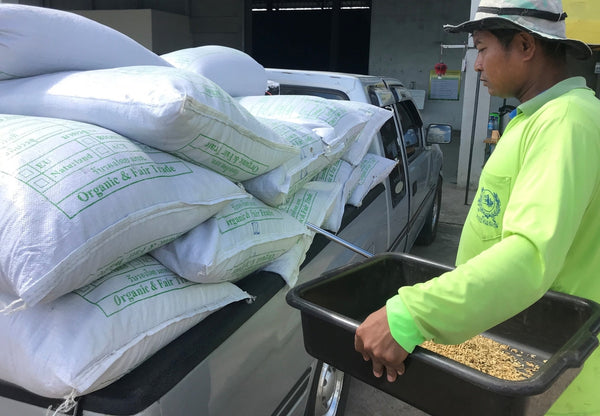 Fair Trade Organic Red Rice
SUPPORTING SMALL-SCALE FARMERS IN BUILDING BETTER LIVES

Lotus Foods' Co-Founder Caryl Levine, in the Fair World Project article, Changing How Rice is Grown Around the World, stated:
"Lotus Foods is proud to be a leader in working with families that have embraced SRI and in raising awareness about the social and environmental consequences of rice production. With climate change, and the high cost of inputs and credit, most smallholder rice farmers are barely able to make ends meet. But with the combination of higher yields from SRI and organic and fair trade premiums, we are helping the farmers from whom we source our rice to stay together, farm together, and improve their quality of life. We are hopeful that as more consumers become aware of these issues, they will request – even demand – that more vendors provide rice grown using this women-, water- and climate-smart method."