Lotus Foods Co-Founders Caryl Levine & Ken Lee Inducted into Specialty Food Association Hall of Fame
Richmond, CA – (July 6, 2022) – Lotus Foods, the leading heirloom and organic rice company, has announced Co-Founders/Co-CEOs Caryl Levine & Ken Lee have been inducted into the Specialty Food Association (SFA) Hall of Fame. An awards celebration took place Sunday, June 12 during the Summer Fancy Food Show at the Javits Center in New York City.
The mission of SFA's Hall of Fame is to honor individuals whose accomplishments, impact, contributions, innovations, and successes within the $170.4 billion specialty food industry deserve praise and recognition.
Levine and Lee were recognized for their more than 25 years of work to change the way rice is grown around the world. Since its founding in 1995, Lotus Foods has led the way in promoting organic rice farming practices, rice biodiversity and farmers' resilience, and since 2008, creating incentives for growing methods that simultaneously mitigate climate change and empower women. Lotus Foods recently released an Impact Report detailing what the company has achieved and its goals for the future.
"We are humbled to receive this honor by the Specialty Food Association and join a highly accomplished group of leaders in the Hall of Fame," said Caryl Levine and Ken Lee, Co-Founders/Co-CEOs of Lotus Foods. "With more than 25 years behind us we know there is still so much more to do and we are grateful for the ongoing support of SFA and our industry."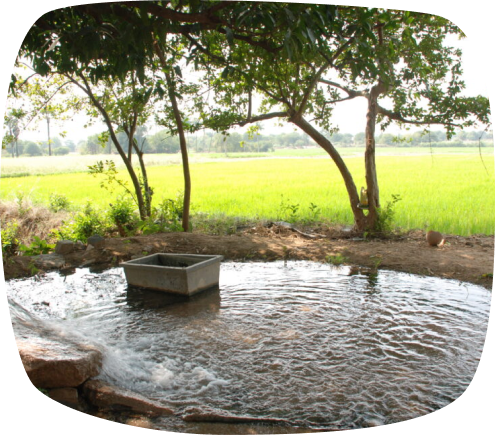 Groundwater pumped up to irrigate rice fields
This fall, Levine and Lee will release their first cookbook, Rice is Life, complete with 65 recipes that showcase rice in easy-to-cook meals from around the world. Additionally, the book features essays on rice culture and the importance of sustainable rice agriculture, showing how rice plays a part in uplifting people across the globe.
Lotus Foods won two coveted Specialty Food Association 2019 sofi™ Awards, known to be the top honor in the $140 billion specialty food industry. In the Pasta, Rice, Grain category, Lotus Foods won both gold for Organic Dehraduni Basmati Rice and silver for Organic Forbidden Pad Thai Rice® Noodles.  The awards were presented at the June 2019 Fancy Food Show in New York.
More Crop Per Drop® farmer in East Java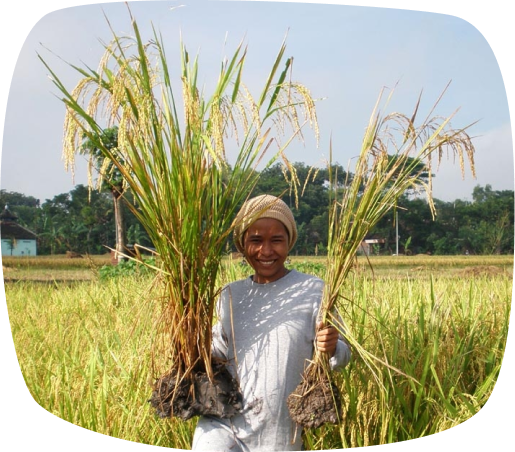 For more information, product offerings and recipes visit Lotus Foods online and follow on Instagram, Facebook, Twitter and Pinterest.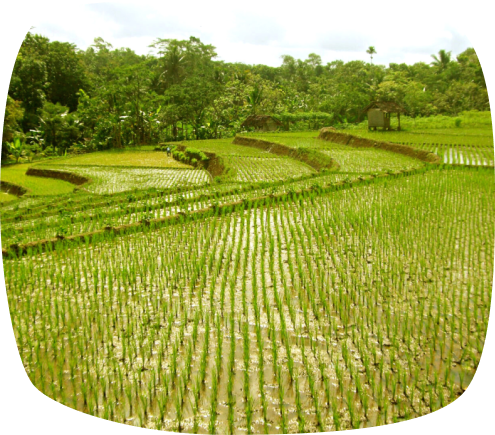 Rice Fields in the Makar Mukti village, West Java
About Lotus Foods
Since 1995, Lotus Foods has partnered in direct and fair trade with small family farmers around the world who are growing rice more sustainably while preserving rice biodiversity. Lotus Foods' product line includes pigmented heirloom and organic rice varieties such as Forbidden Rice®, Jade Pearl Rice™, Red Rice, traditional Basmati and Jasmine Rice and Tricolor Blend Rice as well as Rice Ramen, Pad Thai Rice Noodles and Rice Ramen Noodle Soup Cups. Products are available at major retailers nationwide. As a certified B Corporation, Lotus Foods is committed to "Changing How Rice Is Grown around the World" by focusing on rice grown using the System of Rice Intensification (SRI), which we call More Crop Per Drop® . SRI minimizes water usage, empowers women, financially rewards farmers and reduces climate impact. As a business co-founded and co-owned by an Asian American, and with a global supply network encompassing family farmers throughout Asia, Lotus Foods stands with the AAPI community and condemns racial violence.
Farmer in India Practices Mechanical Weeding