International Women's Day, March 8, 2022: Somrid Thisachai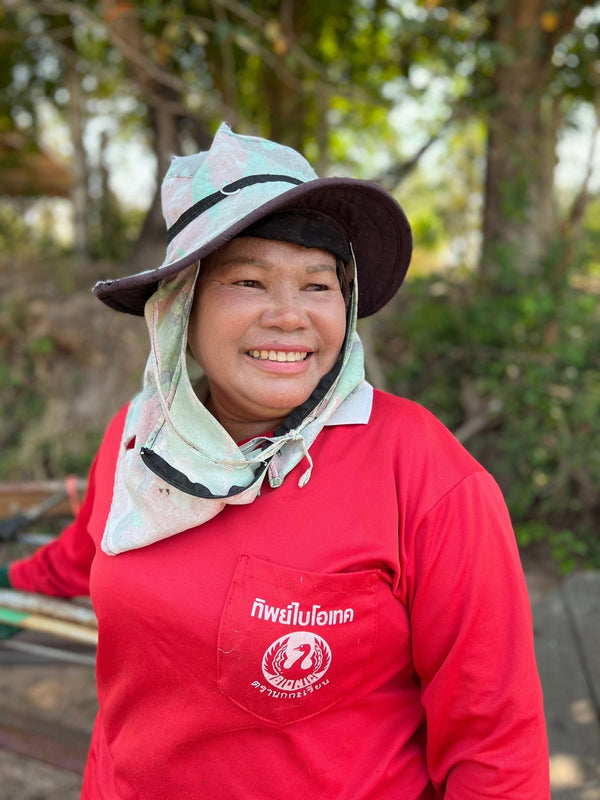 Somrid Thisachai, organic rice farmer, assistant to her village's leader, and Foodtech Solutions Organic Amnat-Charoen Community Enterprise Network, board member, at her family farm.
Somrid Thisachai is a board member of Foodtech Solutions Organic Amnat-Charoen Community Enterprise Network (FTS Organic Amnat-Charoen SMCE) and has been partnering with Lotus Foods since 2017 as part of a network of farms that provide organically grown rice to Lotus Foods.
FTS Organic Amnat-Charoen SMCE is one of the world's leading specialists for organic rice. With companies in Germany, Thailand, and India they develop, manage, oversee and export, trade, and broker organic rice and other food products from Thailand, Cambodia, Vietnam, Pakistan, and India.
How do you balance the work with FTS from your own farm work?
I do not work the farm alone, my husband and I work it together. I usually start my farm work at 4:00 a.m. so by 8:00 a.m., an important part of my work share is done. The dates for our board meetings with the FTS farmers network I know well in advance. Over the year we meet about 20 times. Besides our regular meetings, there are always special topics in between, especially now that we are in the process of becoming a cooperative. Foodtech Solutions has agreed to hand all the business over to the cooperative so this is an exciting year for us.
Then we have meetings in the sub-districts with all FTS network farmers where we can share in detail what has been going on and what is planned. These smaller meetings are live in person, and happen during not busy times of the year.
The General Assembly we typically have in March but covid-19 made it difficult for the last two years. As I am also the designated speaking partner for our farmers in my village and two other villages nearby, I get calls or visits, or questions regularly. As the network also has a welfare fund from the Fairtrade Premiums from time to time a committee has to decide on payments. I also work as a village head. I mostly do it on some mornings in the week but it is also just being available and taking a break whenever someone in the village has a problem or needs assistance. In the evening we have to feed the cow or get her out of the field in case she is grazing. My days are full but manageable.
How much time do you invest into working for the Network?
It changes over the year. We have some very, very busy months during field preparation and planting at the beginning of the rainy season around May and June and equally busy weeks during harvesting and drying at the end of the year. As all of us are farmers, during this time everybody is busy so also the FTS network activities are reduced. When less is to do in the field and all farmers have less pressure from fieldwork, I am also freer and can do more. Overall I may spend 5-8 hours a week for the network. When I do special work like representation for whole days at trade shows or exhibitions, we pay ourselves a little bit more than the legal minimum wage.
Where does that money come from?
Our network has three sources of income. One is the Fairtrade Premium. The usage of the Fairtrade premium is very much regulated. 15% goes to social projects decided by the General Assembly, the rest must be invested into projects that benefit the members or wider community. The fairtrade certifiers have a very sharp eye on this. As our soils are very poor, for some years, we invest in bulk purchase and partial pre-financing of organic fertilizer which we sell to members and non-members. From this, we make some profit which then can be used for the maintenance and the needs of the network. So 1st., Fairtrade Premium, 2nd., trade of organic fertilizer and the 3rd., is an organic premium that our partner Foodtech Solutions pays to the network for every ton of organic paddy they buy from our members. They pay this from the first day of cooperation. They said they want to have financially independent partners and not financially dependents.
What would you do differently when you could go back in time and start the process again?
I wish I had started earlier to farm organically. I would become a member earlier and also become a board candidate earlier. What FTS has started here has benefited us as a family and is very good for our village and community. In the beginning, we had only men on the board, today we are eight women and six men. I think the organization is better to run with a good mix.