A Celebration of Women, Water, and Rice
Emily Sutanto has been partnering with Lotus Foods since 2009. She supplies a blend of traditional Indonesian whole grain red and brown rices that are marketed as "Tricolor Blend". The rice is certified organic and Fair for Life, the most demanding fair trade certification that exists. Besides fair pricing, it encompasses many other social and environmental concerns, including water use and gender equity. Thanks to Emily's efforts, the rice was the first ever to receive Fair for Life certification. To celebrate International Women's Day, March 8, and World Water Day, March 22, we want to share some insights from Emily's personal journey and why changing rice production to more regenerative practices such as the System of Rice Intensification (SRI) (what we call More Crop Per Drop®) is important for women and water.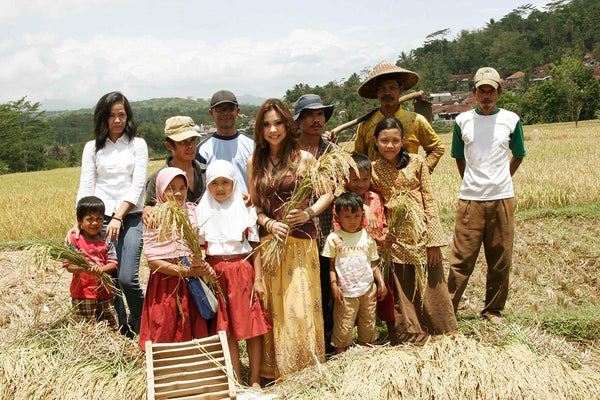 Emily, you're a citizen of Indonesia but spent much of your life overseas. Today, you're a successful businesswoman exporting organic and fair trade rice, and you have your own brand, Sunria. How did this remarkable change in your life's journey come about? 
It started when I heard from a family friend, who was the former governor of West Java, that a group of farmers were starting to grow organic rice, but they could not get the price that they deserved. It's unfortunate that farming in Indonesia is dominated by Tengkulaks, or loan shark traders, who give working capital during the planting season and charge a super high interest rate. After the harvest, farmers have very little left, or even are in debt. This creates a poverty cycle that has been affecting small farmers for decades. When I heard about these farmers trying to make the world more sustainable, I was intrigued. I visited the farm and met some of the most sincere and kind-hearted people in my life, and that's when I knew I had to help them. It took so much time and effort, but finally they made history by being the first farmers in Indonesia to be internationally organic and fair trade certified!
A lot of people take the fair trade label for granted, not realizing the tremendous amount of effort it represents. Years ago, you sent photos of all the paperwork that had to be compiled. Literally mountains of documentation. Has the process become any easier over the last 10 years? 
No, it hasn't. There's a lot of documentation involved, also due to the fact that in Indonesia the farmers are small scale. On average, one farmer family owns 0.2 hectares. This means that to certify enough land, we need to deal with many farmers. Each farmer needs to have a complete set of documents, which has to be updated continuously. It's very tough dealing with older farmers who have limited ability to read and write. Furthermore, the organic and fair trade standards have become stricter over the years too, which makes it necessary for even more elaborate sets of documentation. We are looking at software and apps that can help us ease this burden.
One of the advantages of being fair trade certified is that part of the sales go into a fair trade fund used for community projects. Lotus Foods was the first buyer for our rice, and it's so meaningful that Lotus Foods is fair trade certified too, because buying from us at a fairer price means that we can create a deeper impact on the farmers' community. From our fair trade fund, we're very proud to have established trash banks in farmers' villages. Instead of depositing "cash", villagers can now bring trash and convert it into monetary value in their savings account. This means that they're cleaning up their own villages and saving more money! It's a win-win situation for the environment and community.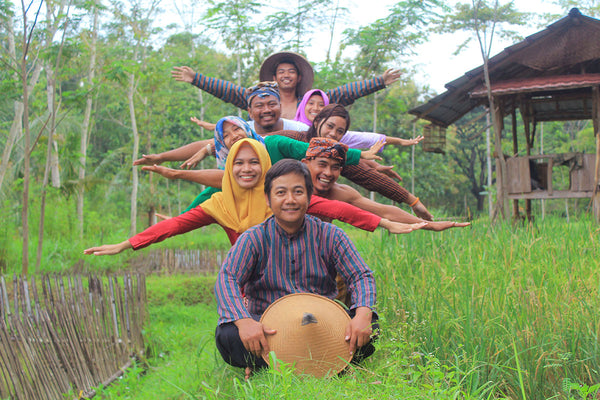 One of the many benefits of the System of Rice Intensification (SRI) is the reduction in water use compared with farmers who keep their fields flooded. You've been able to achieve quite dramatic reductions in water use. 
For the Java area, usually to produce rice using non-SRI methods, it takes between 3,000 and 4,000 liters of water to grow 1 kilo of rice. Using SRI, we only need about 750 liters of water per kilo of rice. This is a dramatic difference. With SRI, during the dry season we can effectively distribute water to more rice fields, which are usually dry and not productive. This way, we're growing more rice to help with food security, and giving farmers more income in a year.
Around the world, women do most of the hard labor associated with rice cultivation. They work bent over with their hands and legs submerged in water, which also harbors diseases. This is debilitating work. What benefits for women do you observe where the families adopt SRI practices?  
Yes, SRI is definitely more women-friendly. Because it uses 90% less seedlings with single seedlings planted wider apart, women can save time when planting. The time saved is used to gather food for their animals like cows and sheep which are valuable sources for compost and extra income. Now they can expand their livestock numbers. Also, the women have less skin disease because they are not working in flooded fields and have fewer cases of malaria. Malaria affects their children as well, who love playing in the fields.
Research indicates that, if scaled, SRI practices could significantly increase rice supplies, while using less water and agrochemicals and reducing greenhouse gas emissions. What do you see as the obstacles to greater adoption of SRI in Asia?
There are a few obstacles that I see.
First is that even though SRI is more productive while being environmentally friendly, to be fully organic it requires more labor. SRI recommends that farmers make their own fertilizer, compost, and natural pesticides. Farmers are very used to buying chemical fertilizers and pesticides, which is more "instant" than making it themselves. It's similar to fast food vs slow food. Also, a main reason why rice fields are flooded is because the ancestors did not want to deal with weeding. Flooding helps suppress weeds. With SRI, farmers are encouraged to weed 2-3 times per planting season, and it seems like a lot of work. However, weeding is valuable because it aerates the soil, which makes the productivity even higher. We noticed that with each weeding productivity can increase by 1 ton/hectare.
Second is that Indonesians value tradition and it's very hard for them to let go of what their fathers were doing. Sometimes, they would rather be in a comfort zone and stick to what was done before, than try something revolutionary that is more productive. We need both role models of farmers who have succeeded with SRI who can patiently guide them and also consistent government involvement. So far what we have witnessed is that with people in government offices changing all the time, a decision only sticks temporarily, and there is no strong and constant support for SRI.
We want to thank Emily for all her efforts to support the farmers and regenerative agricultural practices!